A couple of weeks ago I reached an agreement to buy a second hand PhaseOne V-mount digital back for a reasonable price, so I had to get me a Hasselblad to put it on. Fortunately my preferred store Kamera Express had several available amongst which this beautiful 501c body with CF 40 mm Distagon FLE lens on it.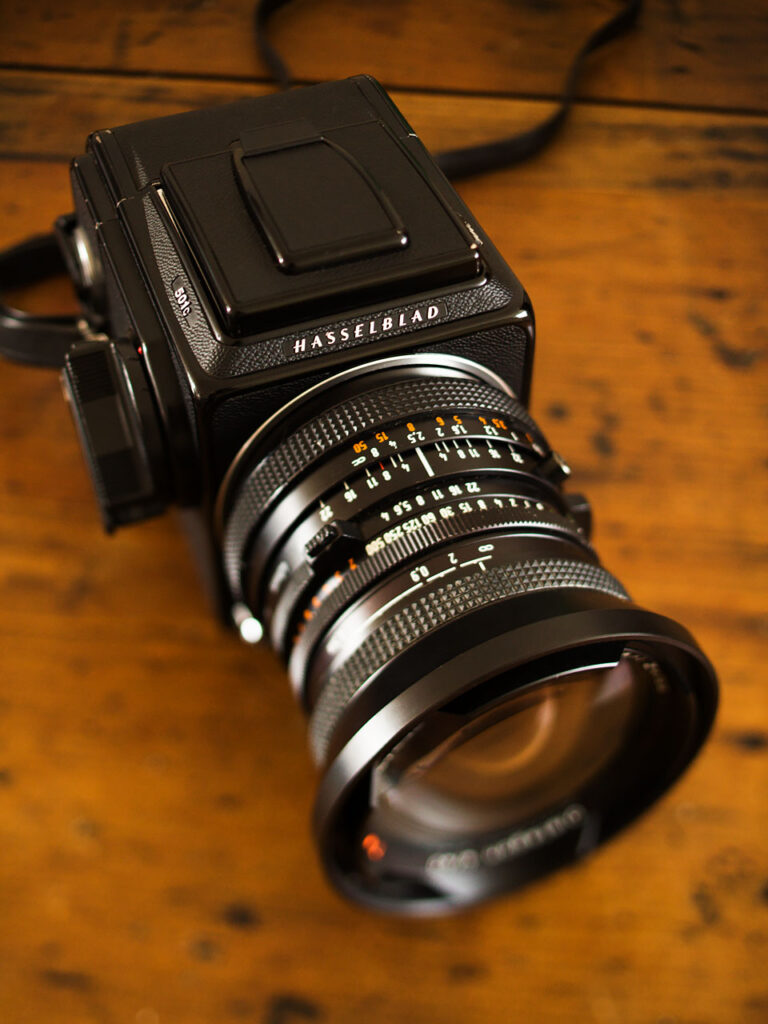 The 501c is still favourite amongst Hasselblad aficionados, I guess because of its simplicity and originality. The 500 being the first mass-produced Hasselblad with total reliability that started the Hasselblad reputation. The 501c is essentially a 500c/m but only available in black. These models have a user-interchangeable matte screen which the original 500 did not have. After the 501c further improvements were made on the so called 'V-series' by Hasselblad. Including better black paint inside, an integrated light meter, better matte screens, optional winder, better telelens compatibility, culminating in the 503c/w.
However, for a great Hasselblad feel and full mechanical shooting using normal lenses you need no more advanced a body than the 501c.
This setup with the gorgeous 40 mm T* coated wide angle seemed ideally suited to the digital back I was planning to put on it.
Adventures
So the guy was selling his PhaseOne for € 3.500 which is pretty cheap but not impossible so I thought. The deal was struck quickly but then he turned silent for more than a week. When he resurfaced he said he waited for the PhaseOne to come back from Denmark. He had sent it to the manufacturer to get serviced and checked. I wondered why, as the deal was already in place and this would have set him back several hundreds of dollars.
As he couldn't meet me anywhere in the Netherlands I asked him to send the back to me after I put the money in escrow, but he did not agree. He said he could only meet me in Antwerp. As he was very busy always, I should call him when I arrived in Antwerp and then he would give me an address to go to. Of course I had to bring cash.
After I e-mailed him that the deal was off he answered me angrily that he only wanted to do good by sending the back for servicing and that no-one appreciates him for the honest guy he is. I guess not indeed.
The End
Now I will never know whether that guy is a crook or not. For the sake of the world I hope he is not. But that leaves me without a digital back. And there are no other backs available at that pricepoint. It probably was too good to be true after all. Will be returning the Hasselblad 501c tomorrow, without having shot even one photograph. Kamera Express agreed to give me store credit for it, which I will use to buy a Canon EOS 1 Ds II.